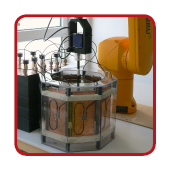 Medical devices are subject to special safety and EMC immunity requirements because they are used on patients and in sensitive installations. Although liability and risk management are essential aspects of EMC testing for medical devices, ergonomic requirements and carefully controlled, qualified production processes are also very important.
As an accredited testing laboratory for EMC, the IMST Test Center assists you from the initial development level to the final approval:
EMC testing according to applicable standards for medical devices (Medical Devices Directive (EU))
Testing of medical devices with wireless interfaces according to applicable standards (R&TTE)
Measurement and simulation of electromagnetic interference with active implants, such as cardiac pacemakers, cochlea and retina implants with other EM radiation sources

Determination of current density and SAR surrounding implants by simulations in connection with body models; see EMCEA/SAR and EM-Simulation

Dosimetric evaluation of coils for magnetic resonance tomography (MRT) devices with respect to SAR
Infobox/Norm:
Medical Device Directives:

93/42/EEC, 2007/47/EC

Germany: Medical Device Act (MPG)

Active Implants: 90/385/EC, ...

In Vitro Diagnostic Devices (IVDD) 98/79/EC

Further Guidelines & Standards:
DIN EN ISO 13485 Quality Management for Manufacturing

DIN EN ISO 17971 Risk Assessment & Management

EN 60601-1-2 (EMC), EN 60601-1-4 (Software), ...