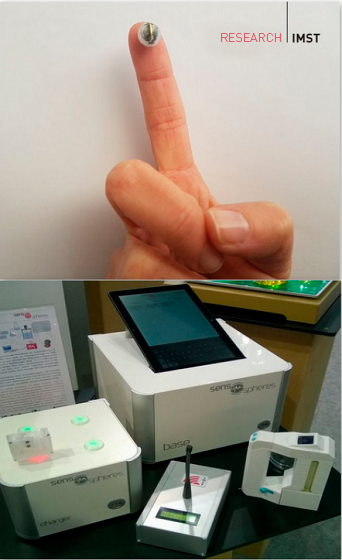 A miniaturized telemetry transmitter developed in the BMBF collaborative project "Sens-o-Spheres" will be presented from 24 to 28 April at the fair "Hannover Messe":
A tiny wireless sphere with a diameter of only 7.9 mm which transfers data over distances of a few meters. The highly miniaturized radio circuit inside the sphere was developed by IMST GmbH, Kamp-Lintfort.

Integrated in a waterproof plastic housing, this technology enables communication with an evaluation unit on a 434 MHz frequency. A typical task is the wireless transmission of data on the condition of liquids, gases etc. via micro-miniaturized sensors. The device is suited not only for applications in the industry, but also the biological and chemical sectors, ranging from the monitoring of biotechnological processes to medical technology, which require the online transmission of highly accurate values measured locally.

This task has been undertaken by a consortium led by the Technical University of Dresden, the e-nema GmbH, Ökoplast GmbH, Systemanalyse und Automatisierungsservice GmbH, the Fraunhofer Institute for Electromagnetic Nanosystems and IMST GmbH. The research project "Sens-o-Spheres" was submitted in the ideas competition "New products for the bioeconomy" of the German Federal Ministry for Education and Research (BMBF) and received funding (FKZ: 031B0048C).) It falls under the National Research Strategy BioEconomy 2030 of the Federal Government.
The new concept enables extremely high ranges to be achieved, also in liquids. Currently, up to 24 balls can transmit their measurement data to the receiving station virtually in parallel. In the current version, each station is equipped with a sensor that periodically sends out the local temperature. The high system intelligence and existing interfaces allows other sensors to be connected. Corresponding variants for different industrial applications are in the pipeline.
The device is equipped with the latest inductive charging technology to charge the built-in battery, so no electrical connection is required. With charged battery, test series of up to 4 weeks duration can be completed (depending on measuring rate). The built-in temperature sensor has a resolution of 0.1 °C enabling the detection of even smallest temperature differences.
Already now, follow-up steps are planned in a subsequent project. In the future it should also be possible to transmit the location of the respective sensor. Spatial measurement profiles, which reflect for example the temperature distribution in a bioreactor, can thus be created.
Sens-o-Sphere will be showcased at the Hanover Messe - Hall 2, C50 and can be viewed there in operation.
zurück